Organized by the NGO-UNESCO Liaison Committee and UNESCO, in partnership with the Mohammed bin Salman bin Abdulaziz Foundation (MiSK), the Seventh International Forum of NGOs in official partnership with UNESCO will be held in Riyadh, Saudi Arabia, on 3rd and 4th May 2017 under the theme Youth and their social impact.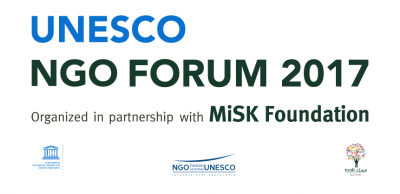 The forum, which has attracted a number of renowned philanthropists and internationally recognised individuals with a focus on empowering youth, including nine time Olympic gold medallist Carl Lewis and Jimmy Wales, the founder of Wikipedia, will be attended by more than 250 NGOs and over 1,500 delegates from around the world.
UNESCO Director-General Irina Bokova will address the Forum which is focused on active working sessions to generate new ideas that boost social impact in areas such as education, volunteering, new technologies and social networks, protecting cultural heritage and sustainable development. MiSK will award $30,000 to the most promising project or proposal from an NGO that fosters engagement among young people to create positive social change.
Bader Alasaker, MiSK Secretary General, said: "It is appropriate that this global UNESCO event is hosted in Riyadh as Saudi Arabia continues on its path of ambitious reform. Like many fast growing and emerging economies, the Kingdom has a youth bulge with two thirds of the population currently 29 years old and under. Empowering youth to drive change and create opportunities for the future is a key focus.
"Collectively we need to turn rhetoric into reality and platforms like the UNESCO NGO Forum are a catalyst for ideas which empower youth around the world to shape their own, and their societies, futures."
The Forum is hosted by the MiSK Foundation which was founded by Deputy Crown Prince Mohammad bin Salman with a mission to empower, nurture and inspire Saudi Arabia's youth to become active participants in the global economy. It is a non-profit organisation which works to develop a knowledge-based economy by promoting practical schemes to support young people in developing the right entrepreneurial and cognitive skills.
Through keynote speakers, panel discussions and breakout sessions, the forum will focus on the following topics:
Skills and knowledge necessary to prepare young people to live in globalised societies
Youth volunteering at local and international level
Youth, media and new technologies: enabling critical thinking and skills for young people's active participation
Social networks: are they an asset or risk?
Education for sustainable development provided by youth organisations, including on climate change
Protection and conservation of cultural heritage: youth engagement in the protection and conservation of tangible and intangible cultural heritage